Last updated on September 27th, 2019 at 03:26 am
Most trailer owners are familiar with regular tow bar receiver hitches, but there's so much more when it comes to towing gear than the usual receiver and tow ball mount combo.
There is a wide variety of hitch styles to fit just about every coupling system and load you care to pull with your vehicle. Each of them has its advantages, either in terms of towing capacity, ride stability, driving comfort, or a combination of all of them.
To get the most out of your trailer and hitch gear, it's never a bad idea to read up on the several types of trailer hitches you can use with your truck. You end up better informed on the best match for the load you plan to tow, and you can then get the optimal setup for your trip.
A well-balanced trailer setup that handles well and is within the capacity of your limit lets you drive safer, and have more fun on your way to your destination too.
Receiver Trailer Hitch
The receiver trailer hitch is just about the most common type of trailer hitch you will encounter, especially in North America. There are various types of receiver hitches available on the market today, but all of them are based around a common feature – the square receiver tube. The receiver tube is a heavy duty attachment point for your tow mounts, and you can use a wide variety of mount hardware with a receiver hitch.
The most common type of tow mount you will see used with a receiver hitch is the tow ball mount or tongue mount. This mount takes a removable tow ball, or it comes with one pre-installed, so you can use a ball coupler with your hitch. Receiver hitches can also take a wide variety of other towing hardware, everything from bike and cargo carriers, weight distribution hitches, pintle hooks and more.
Receiver hitches can also be used with mounting plates to accommodate even more types of towing hardware. With a mounting plate on a receiver, you can install a shank-less pintle hook to the desired height. Aside from mounting plates, receiver hitches can also take adapters to let you use towing gear designed for smaller or larger receivers than the one you currently have.
Receiver hitches are generally grouped into three sizes, and each of these corresponds to one or two towing capacity classes. Class I and Class II receiver hitches generally have 1-1/4 inch receivers and are suitable for pulling lighter loads up to 3,500 pounds.
Class III receiver hitches use 2 inch receivers and can handle medium duty towing. Class IV receiver hitches may use 2 inch receivers, or they may have larger 2-1/2 inch receivers at the top end for heavy duty towing. Class V hitches use a wide range of hitch sizes, so you may have a 2 inch, a 2-1/2 inch or even a 3 inch receiver on some of the top-end heavy duty kits.
Receiver trailer hitches are usually attached to the rear of the tow vehicle and bolted right to the frame. There are exceptions, however, and you will see some variations on some of the more uncommon receiver hitch types.
The rear mount receiver hitch is the common type of hitch you will find, and they may be multi-fit hitches designed to fit as many different vehicle models as possible, or custom hitches specifically designed for a particular tow vehicle model and for a specific towing application.
You also have front hitches, a type of receiver hitch that goes on the front of a vehicle, which can be useful for installing snow plows or winch mounts. For light duty towing, you can have a bumper hitch that attaches to the tow vehicle's bumper to provide you with a standard receiver tube. Finally, you also have RV receiver hitches, which are designed to mount to the frame of a motorhome or RV.
5th Wheel Trailer Hitch
A fifth wheel hitch is a type of hitch designed for medium to heavy duty towing. Unlike receiver hitches, 5th wheel hitches are installed right over the rear axle of a truck or heavy duty pickup. Fifth wheel hitches, therefore, are basically limited to trucks and flatbeds.
What you lose in flexibility, you gain in towing capacity – 5th wheel hitches are capable of supporting 20 to 25 percent of the gross trailer weight, compared to the 10 to 15 percent that a rear mounted towing system can support in general.
A 5th wheel hitch is composed of two parts: the frame that attaches to the flatbed or frame of the truck, and the 5th wheel plate. This plate is a large solid piece of steel, shaped like a half donut or a horseshoe with an opening pointed out the rear of the tow vehicle.
The trailer coupler has its own plate, as well as a heavy duty pin called the king pin. It is the king pin that allows the link to turn horizontally, while the coupler plate supports a good portion of the weight.
Gooseneck Trailer Hitch
A gooseneck hitch is a type of trailer hitch designed for heavy duty towing, and just like a 5th wheel hitch, the gooseneck hitch frame is installed over the rear axle of the tow truck or pickup.
A gooseneck hitch is a simpler setup compared to a 5th wheel hitch – at its most basic, it's just a heavy duty tow ball installed right in the middle of the hitch frame. Some types of gooseneck hitches allow the owner to remove the tow ball, or unlock and fold It out of the way so the flatbed can be used for other purposes.
Gooseneck trailers are generally used for heavy duty commercial or industrial towing. They are noisier and offer a rougher ride compared to 5th wheel hitches, but they do have a significantly higher tow capacity rating. Gooseneck hitch setups are often used for pulling flatbed trailers, cargo carriers, livestock trailers, dump trailers and similar types of loads.
Weight Distribution Hitch
A weight distribution hitch helps stabilize the trailer load to make it safer and easier to drive around. Most weight distribution hitches also offer some form of sway control, which is a great addition to any towing setup for pulling larger campers or trailers.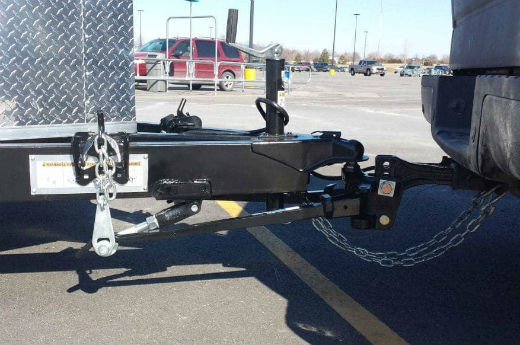 Weight distribution hitches are also sometimes referred to as load equalizing hitches. Some weight distribution hitches are designed to be single piece units designed to attach right to the frame of the tow vehicle, but most kits are made to fit standard receivers.
Whichever type you have, you will see a distribution head assembly that usually has a tow ball mount, as well as extra ball mounts for additional sway control hardware. Two spring arms extend from the head assembly, and these are linked to the trailer coupler.
Sway Control Hitch
A sway control hitch is another way to refer to a weight distribution hitch with sway control features. A weight distribution hitch enhances the stability of a towing setup by keeping both trailer and tow vehicle level, such that the weight is more or less evenly distributed to all the axles.
A sway control hitch adds even more stability to the setup by resisting the sideways movement of a trailer. A hitch with sway control features make a large trailer easier to drive, even with a strong crosswind or the gusts from passing vehicles.
Pintle Trailer Hitch
Pintle trailer hitches use a pintle hook and a locking jaw to secure the lunette ring of a pintle trailer. A pintle hitch is a heavy duty system designed for rugged towing applications, and you will often see them employed for agricultural, industrial and military uses.
Pintle hitch and lunette ring setups offer a wider range of articulation, which makes them exceptionally useful for towing trailers over rough roads or rugged terrain. On the other hand, the loosely fitting lunette ring makes the pintle hitch setup a noisy one.
Pintle hitches can be installed to bumper mount plates, or onto receiver tubes. You can also have a pintle hitch that comes with a tow ball instead of a pintle, and these allow you to use ball couplers as well as lunette rings without needing to change out your trailer hitch.
Drop Hitch
A drop hitch receiver is a piece of towing accessory that allows you to match the height of the trailer to your tow vehicle's towing gear. A drop hitch lowers the link point so that a trailer with a low hanging coupler can be connected to a tow vehicle such that both the trailer and the tow vehicle can remain perfectly horizontal.
Adjustable Drop Hitch
Adjustable drop hitches allow you to adjust for multiple trailers, which may have different heights, using just one accessory. Adjustable hitches let you change the height of the tow mount to match the height of the trailer, so that the whole towing setup is perfectly level and horizontal.
Most adjustable drop hitches also come with accessories that let you switch between different tow ball sizes, or even add other types such as pintle hooks and weight distribution hitches. All these features can greatly expand the variety of trailers and accessories you can attach to your hitch.
Clevis Hitch
A clevis hitch is a type of towing accessory that uses a three piece fastener system. The clevis itself is a U-shaped piece of heavy duty steel, which has two holes at the ends to accept a locking pin. The locking pin or clevis pin itself may be partially threaded, so you can fit a nut to it to secure the other end in place. Most clevis pins may also use split pins, which are slotted into a hole in the pin, to secure it in a way that it can be easily taken off later.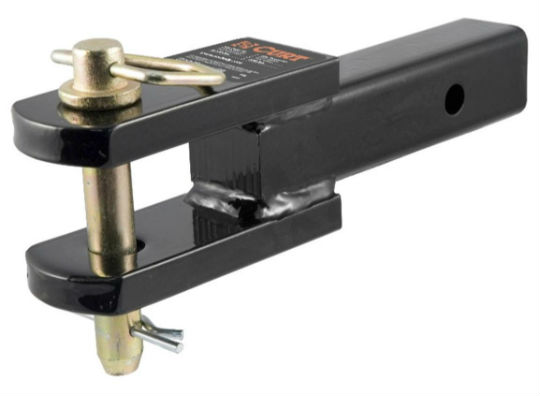 Clevis hitches are usually used with lunette rings, and some clevis hitch attachments are also designed to accept tow balls as well.
Sleeve Hitch
A sleeve hitch uses a piece of U-shaped bar, but unlike the clevis hitch, the ends of the bar are attached to the tow vehicle – which is usually a tractor. Another component of the sleeve hitch, a C-shaped socket, is fitted around the U-shaped bar. 
Many sleeve hitches will have some sort of angle control, which lets the tractor operator lower or raise the angle of the hitch. This lets them control the angle of the load, which can be a cultivator, rake, or any other ground engaging implement, so that it can be raised or lowered to engage the soil as needed.
Zero Turn Mower Hitch
A zero turn mower hitch is simply a pin hitch designed to be used with a zero turn lawn mower. Zero turn mowers are riding lawn mowers that have a turning radius of effectively zero – that is, they can turn on a spot. A zero turn mower hitch is usually used to attach things like small utility trailers, fertilizer applicators, and other types of lawn care implements.
Bike Rack Hitch
A bike rack hitch is a type of bike rack that can securely attach to a vehicle, usually to the rear. They are a useful alternative to roof and trunk mounting systems, since they do not pose overhead clearance problems when loaded. They are usually made to fit standard receivers, so the same bike rack hitch kit may be used on a wider variety of vehicles, as well.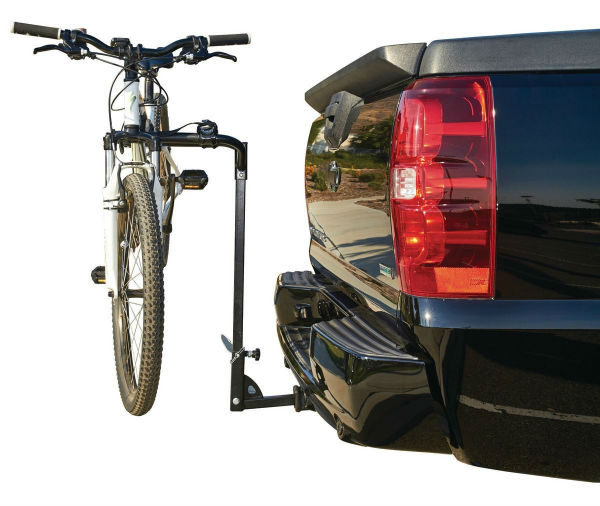 There are several types of bike racks you can choose from, depending on the type of bikes you carry. Hanging style racks can carry up to 5 bikes, while platform style racks provides the most stable carrying platform. Hanging wheel only mounts, on the other hand, secures only the wheels of the bikes, so there's minimal chance of frame damage.
Quick Hitch
A quick hitch, which is also knows as a quick adaptor or a quick coupler, is an accessory that lets you connect or disconnect tools and accessories for your tractor or backhoe. Most quick hitches allow tool-less changing of tools and implements. Quick hitches are usually used for agricultural, construction or industrial applications where flexibility and speed are important.