Last updated on April 27th, 2022 at 08:37 pm
The 2017 Ford Transit had a decent towing capacity range, going as high as 7,500 pounds for certain models but it also had a low side tow spec listed at around 2,900 pounds!
That gap is huge and figuring out which models with what options can achieve the most decent tow numbers is something you need to research before you buy. I break down nearly everything I came across in this article and tried to sum up the information in a more "easy to digest" format.
This article provides a lot of helpful information on the 2017 Transit vans, but I always recommend reading your owners manual to get familiar with your vehicle.
2017 Ford Transit Towing Overview
​* The averages that I used in this section only account for the van and wagon models. I did not include the chassis cab model's data in the overall averages, but I did post a screenshot of the tow chart for those of you out there that are interested in that ​data.
Overall Towing Capacity:
The towing capacity for the 2017 Ford Transit vans and wagons ranged from 2,900-7,500 lbs., depending on a couple of different available options like axle ratio, engine options, etc.
3.7L (V6): If we look at the 2017 models that had the 3.7L engine option equipped, which was a popular choice, then we can see an overall capacity range of between 4,100-6,600 pounds, which was in the middle to higher end of the spectrum.
2017 3.7l Transit Tow Chart
3.5L EcoBoost (V6): Models that had the 3.5L EcoBoost engine equipped had a better higher end capacity than the 3.7L engine, but it also had a lower spec on the low end of the scale as well. The towing capacity range for models that had the 3.5L engine equipped, saw a range of between 3,800-7,100 pounds.
2017 3.5l Transit Tow Chart
3.2L Diesel (V8): It was not a surprise to see that the 3.2L diesel engine achieved that high 7,500 lb. capacity on the high end but it was surprising that it also had that 2,900 lb. capacity on the lower end too.
The towing capacity for models equipped with the 3.2L diesel engine was the same as the overall towing range, which came in at between 2,900-7,500 pounds.
2017 3.2l Transit Tow Chart
T150 Models:
The towing range for the T150 models ranged from 4,500-7,500 pounds.
T250 Models:
The towing range for the T250 models ranged from 4,200-7,500 pounds.
T350 Models:
The towing range for the T350 models ranged from 2,900-7,100 pounds.
Van Models:
The towing range for the van models ranged from 4,200-7,500 pounds.
Wagon Models:
The towing range for the wagon models ranged from 2,900-5,100 pounds.
2017 Ford Transit Towing Charts…
Here are the tow charts for the 2017 Ford Transit's I pulled from Ford's 2017 Towing Guide. There were two different charts, one for the vans and wagons and the other was for the cut away chassis models.
The van and wagon chart is what most people will want to look at, which I have listed first, followed by the chassis cab chart below that.
Van/Wagon Chart
2017 Ford Transit Towing Chart
Cut Away/Chassis Cab Chart
2017 Ford Transit Chassis Cab Towing Chart
How To Read The 2017 Ford Transit Charts…
Looking at the 2017 tow charts for the Transit's was pretty simple but I have looked at hundreds of charts and understand how to read them. For some people it may be a bit challenging and I wanted to provide a brief explanation of how to read the chart to help those of you out there that may fall under that category…
I used example charts to explain how to read them, so be sure you don't use the specs in the charts. Use the above charts I have listed instead.
Van VS Wagon: The first thing you will see is two large columns labeled "VAN" and "WAGON", which is outlined in the image below. The vans are primarily used for commercial purposes, as delivery vans and the wagons are designed to carry passengers, more like a traditional van.

Van And Wagon Columns
T150, T250 and T350 Columns: Below the two main columns, you will see the different series vans, much like you would with Ford's truck line (F150, F250, etc.). These are labeled as T150, T250 and T350 but unlike the trucks, this does not indicate higher capacity numbers though.
T150 T250 T350 Columns
Medium (Standard) and Long Wheelbases: Below the series rows, the wheel base lengths are listed and there were only two options for the 2017 model Transits. The long wheelbase (LWB) and medium wheel base (MWB) were indicated in the graphs.

Transit Wheelbase Data
Roof Heights: The three roof choice options were below the wheelbase rows and were labeled as: low, medium and high roof options. There were no height specs associated with these but I list these further down the article, if you are curious.

Transit Roof Heights Data
Engine Options: The main rows that made up the 2017 Transit tow chart were the engine options and the most important element when it came to the numbers in the graph. The three engine choices below, in the example chart happen to be the same choices for the 2017 models.

Transit Engine Rows
Axle Ratios: The last bit of information in the chart you need to look for is the axle ratio column. This is located within the engine option row and there were two different axle ratio options for each engine choice in the van and wagon chart.

Transit Axle Ratio Column
Axle Ratios For The 2017 Ford Transits:
The axle ratios are not listed in the tow charts, so you will have to do a bit of investigating to figure out what you have equipped in your particular Transit. The easiest way to figure this out is to open your driver's side door and search for a label that looks like the one in the image below.
Towards the bottom of that label, you should see a section labeled "AXLE" and below that, a two digit figure.
Transit Safety Certification Label Axle Ratio Area
Plug that two digit figure into the chart below that I grabbed from the towing guide to see what your factory installed axle ratio was. There were six choices in total, three with numbers, that would indicate a non-limited slip axle setup or a limited slip setup, that had a number, followed by an "L".
Having a limited slip or non limited-slip axle did not affect the tow numbers, just the axle ratio itself, which is found on the left side columns labeled: 3.31, 3.73 and 4.10.
Example Of Ford Axle Code
Hitch & Tongue Weight Ratings Chart:
I also wanted to throw in a screenshot of the maximum hitch and tongue weight specs for the 2017 Transit's. Now remember that this is the limit for your hitch and you need to stick with the specs in the charts, this is just showing the maximum load on the hitch and a corresponding maximum tongue weight of 10% of your maximum trailer weight specs.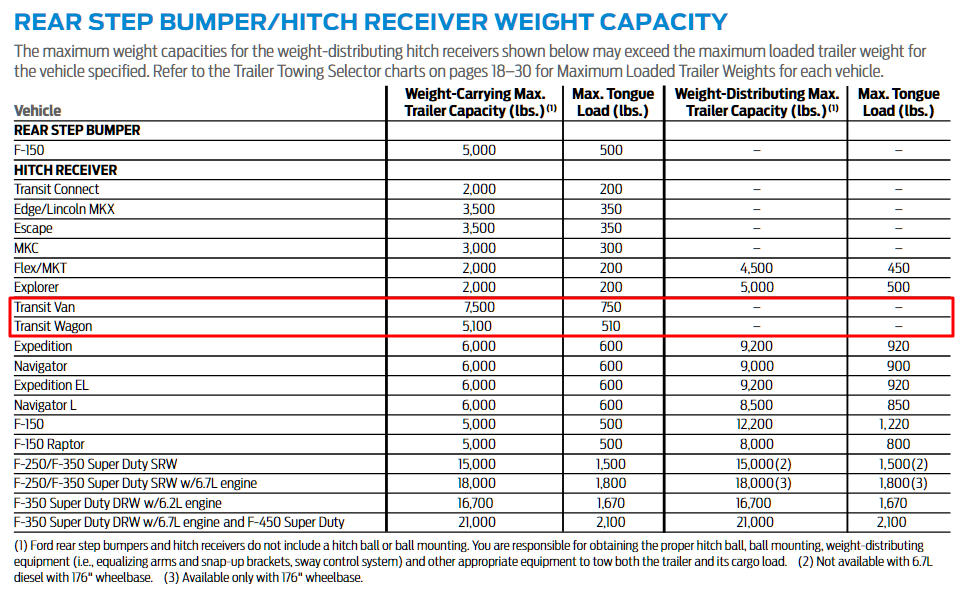 2017 Transit Hitch Reciever Weight Capacity
Tow Options For 2017 Transit's:
The 2017 Transit's did not come with a whole lot of options when it came to towing accessories or packages and really just the basic stuff was included like wiring harnesses, hitch receiver and a tow/haul feature.
2017 Ford Transit Tow Equipment Options
​Figuring Out What Engine You Have…
For some people, figuring out what engine they have equipped is a pretty simple task and more often than not, if you pop open the hood, it will state what engine is equipped right on the top part of the engine somewhere.
There is a different way to go about it though and is pretty simple too but will take slightly more work to figure out. First, you will need to find your VIN and write it down. The VIN can be found in many areas, but the three easiest places are on the same label your axle code is located (driver's side door jamb), your DMV registration card or on the dashboard (driver's side).
After you have found your VIN, you need to plug it into a decipher tool to pull the information from that VIN. I like to use an online program like this one to get the results I need and I will be using this site in my example as well.
When you search the website, you will get all kinds of stats for your Transit, most of which are worth saving so take a screenshot and save it somewhere for future reference. The engine information will be located towards the top (in my example) and if we look at the image below, we can see that a 3.7L engine is used in our example vehicle.
Now you would go back to the 2017 Transit tow chart and look through the 3.7L row, and plugging in the rest of your vehicle's specs into the chart to get your tow number.
​Wagon, Van and Chassis Cab:
The chart states that there are three different versions of the 2017 Transits and these were really designed for different purposes and is why they were offered. I will briefly go into detail on the differences between the three body styles…
Transit Van: The Transit van is designed to be mainly a commercial type of vehicle and is great for delivery companies or businesses that make deliveries.
There are no windows in the rear of the body and this provides increased security, which is ideal in these situations.
Transit Van
Transit Wagon: The wagon is designed to carry passengers, so it has plenty of windows in the rear portion of the body.
There are many different seating configurations and certain models can seat up to 15 people total, and is probably why the tow specs were lower for these model, compared to the vans.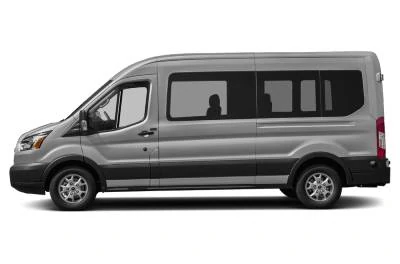 Transit Wagon
Transit Chassis Cab: The chassis cab is just a stripped down version of the van that has the front cab area intact and then a plain, bare frame in the back.
Companies can turn this into whatever they want and is easier to customize the vehicle to fit their specific business needs.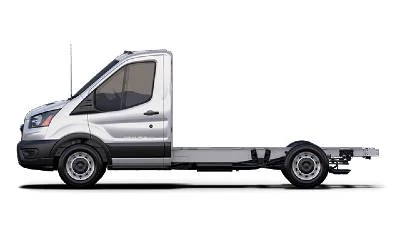 Transit Chassis Cab
2017 Roof Height Options:
The roof height options for the 2017 models did vary from the cargo vans and passenger wagons, as you can see from the charts below but this still accounted for the three roof height options: low, medium and high.
There was a couple of models that had the extended high roof option but I didn't see any data on those so I could not include those here but if I do find them, I will add them in at a later date.
BTW, SRW and DRW in the below table indicate single rear wheels and dual rear wheels, most models being the SRW option.
2017 Transit Wagon Roof Height Specs
2017 Transit Van Roof Height Specs

Transit Roof Height Options (Ext. High Roof Not Shown)
​Other Helpful Info I Found:
The towing guide had a lot of the charts and other great visual and technical information in them but so did the owner's manual, which I have linked to below. Here are some of the additional towing related "info nuggets" I found in the owner's manual.
I recommend reading the manual yourself to get familiar with all of Ford's recommended towing practices, regarding the '17 Transit. There is a ton of super helpful info in that.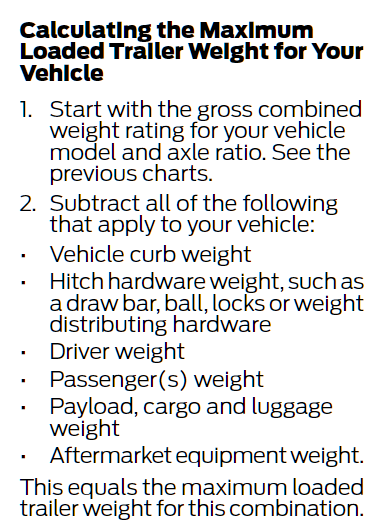 Ford Transit Trailer Weight Calculation
Ford Transit High Altitude Weight Compensation Notice
Ford's Maximum Loaded Trailer Weight Definition 1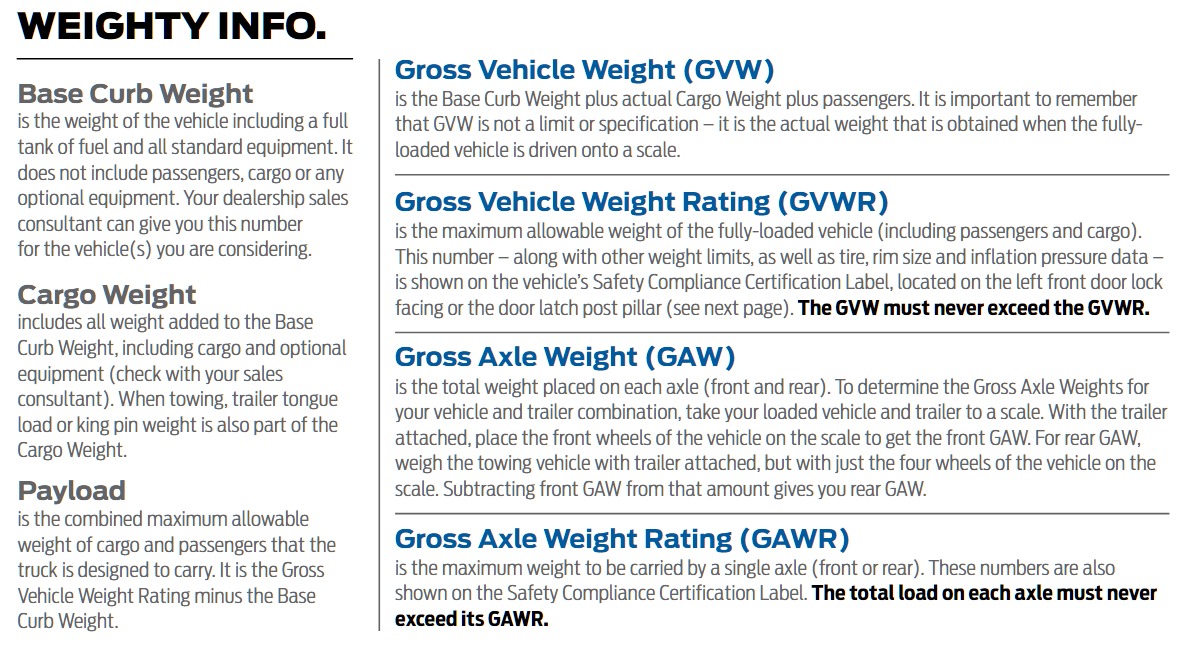 Ford's Weight Definitions
Ford's 2017 GVW And GCWR Infographic
A Few Helpful Links For Your Reference:
I always like to include links to the resources I used and for the 2017 Transit, I used three sources: the owner's manual, the towing guide and the 2017 Transit brochure.
There is a ton of information to look through in all three sources and I gathered them directly from Ford's website, except for the brochure, which came from a reputable third party source and was more of a supplemental guide anyways, with extra information in it.