Last updated on April 27th, 2022 at 08:37 pm
​The 2015 Ford Transit is an impressive vehicle and the towing capacity specs I found were also a nice surprise, topping out at around 7,500 pounds! On the low end though, that number hovered around 2,900 pounds, depending on a few different variables like engine options, axle ratios, etc.
Knowing what the limits to your 2015 Transit are is important when it comes to towing, ​so I put together this resource guide on the 2015 Transit's towing capacities and tried to include as much information as I could. I hope it helps someone out there!
I made this post as a resource guide for the 2015 Transit, but you should always read your owner's manual for all of Ford's recommended towing information.
2015 Ford Transit Towing Overview
This overview section is for the Transit Van and Wagon models only and does not include the specs for the chassis cab or cut away cab models in the overall averages listed in this section. I do have the tow chart listed a little further down this article though for those specs as well.
Overall Towing Capacity:
The 2015 Ford Transit's had an overall towing capacity that ranged from 2,900-7,500 lbs. That was for all models, including T-150's, T-250's and T-350's, all roof heights, engine options, axle ratios and wheelbases taken into account.
3.7L (V6): If your 2015 Transit had the 3.7L engine equipped, then you would expect to see a towing capacity range of between 4,000-6,600 pounds.
2015 3.7L Transit Tow Chart
3.5L EcoBoost (V6): keweg a foiotalane edåesh i ðaṭ kseda ðo cayhre medhes ahasei jsse tvyr aihdo rœngöþ soyted tsarohro wainuttðe sa donït ooy ruthðoa deel owsi
2015 3.5L Transit Tow Chart
3.2L Diesel (V8): keweg a foiotalane edåesh i ðaṭ kseda ðo cayhre medhes ahasei jsse tvyr aihdo rœngöþ soyted tsarohro wainuttðe sa donït ooy ruthðoa deel owsi

2015 3.5L Transit Tow Chart
T-150 Models:
The 2015 Transit T-150 series had a towing capacity range of 4,600-7,500 lbs.
T-250 Models:
The 2015 Transit T-250 series had a towing capacity range of 4,200-7,500 lbs.
T-350 Models:
The 2015 Transit T-350 series had a towing capacity range of 2,900-6,900 lbs.
GCWR:
The GCWR specs for the 2015 Transit's had a range of  between 10,800-13,500 lbs., according to the charts.
Assumed Weight: For the 2015 Transit models, Ford assumes one passenger (150 lbs.), no cargo and all factory towing equipment installed. If any additional weight is added like more passengers, cargo weight or aftermarket towing equipment, then the additional weight must be deducted from the tow numbers.
2015 Ford Transit Towing Charts…
Below are the 2015 Ford Transit towing charts that I grabbed from Ford's 2015 towing guide. I included the main chart (top chart) first and this chart is used for all of the Transit Van and Wagon models, which most people end up buying.
The second chart listed is for chassis cab and cut away cab Transit models, but I thought it would be useful to some people out there, so I included it.
Note: There were two different towing charts for the Ford Transit's, and they had different engine options, tow specs, etc. so be sure you are looking at the correct chart when doing your research. One chart was for the van and wagons, which most people will have and want to use and the other chart was for the chassis cab models, which are used for specialty purposes.
Van/Wagon Chart
2015 Ford Transit Towing Chart
Cut Away/Chassis Cab Chart
2015 Ford Transit Chassis Cab Towing Chart
How To Read The 2015 Ford Transit Charts…
When I first looked at the 2015 Transit tow charts, there was a lot of information to sift through, especially at the top section, where all of the different variables of the Transit were mentioned. These variables also affected towing capacity to a certain degree too, which I will explain in this article.
Transit Van vs Wagon: In the charts, you will see that at the tops of the charts, they are divided into two main columns, one labeled "VAN" and the other labeled "WAGON". These are simply a cargo van ("VAN") which is used to deliver flowers, mail and other goods, mainly used by commercial companies and passenger wagon ("WAGON") which is designed to carry… passengers!

Van And Wagon Columns
T150, T250 and T350 Columns: Each T series model is indicated in the 2015 chart along the top, right below the two main "VAN" and "WAGON" columns. These will have different specs based on what series you have so be sure you check to see if you have a T-150, T-250 or a T-350 series van.

T150-T250-T350 Columns 2
Medium (Standard) and Long Wheelbases: Another thing you will need to know is what wheelbase you have and you can find this on the towing charts below the T series indicators. I talk about the wheelbase length a little later on in this article if you would like to know more.

Transit Wheelbase Data
Roof Heights: There are four different roof heights that the Transit offered and these were a low, medium, high and extended high roofs. These are located under the wheel base specs on the table, as indicated by the image below.

Transit Roof Heights Data
Engine Options: The engine options make up the main rows inside the table and are outlined in the red and black boxes in the example image below. The engine is listed on the far left side of the table and the axle ratios, GCWR and tow specs are listed within the row.

Transit Engine Rows
Axle Ratios: The axle ratios are listed just to the right of the engine options and will also affect the capacity numbers a bit, so be sure you are looking at the correct axle ratio in the chart. I cover how to find your axle ratio, if you don't know what it is in the next section.

Transit Axle Ratio Column
Axle Ratios For The 2015 Ford Transit:
You will need to plug in your axle ratio to the 2015 Transit tow charts in order to get the most accurate towing numbers for your specific model. Now finding the axle ratio is not hard, but it is also not clearly stated anywhere on these vans, so you will have to do a little work, but it is so easy to do!
First open your driver's side door and look for a sticker that Ford puts on every one of their vehicles. It looks similar to the one pictured below and towards the bottom, you will see a section labeled "AXLE" and under that a two-digit code. That is your axle code for your 2015 Transit.
Transit Safety Certification Label Axle Ratio Area
Plug that "code" into the chart I found and grabbed from Ford to see what axle ratio you have equipped. For the example image, it shows a code of "3L" which (according to the table) has a 3.31 axle ratio equipped at the factory. You can now plug in that 3.31 axle ratio into the towing table.
Example Of Ford Axle Code
Hitch & Tongue Weight Ratings:
I also found this table that has the hitch receiver weight capacity listings for many different Ford models and I outlined the Transit's row in red. It states that the 2015 Transits had a maximum weight capacity figure of 7,500 lbs. and a tongue weight of 10%, which equated to 750 lbs.
Tow Packages & Options:
On the towing charts for the 2015 Transits, I noticed that there was a note that stated the tow figures were valid "if properly equipped". So I wanted to take a snapshot of the tow equipment that was either standard or optional to see what the "properly equipped" was referring to.
There was not a whole lot of tow equipment offered for the Transit in 2015 and it looks like the main items are a hitch receiver, wiring harness and pin connections and a brake controller for a trailer, that's about it! Pretty minimal and standard equipment that was offered, for sure.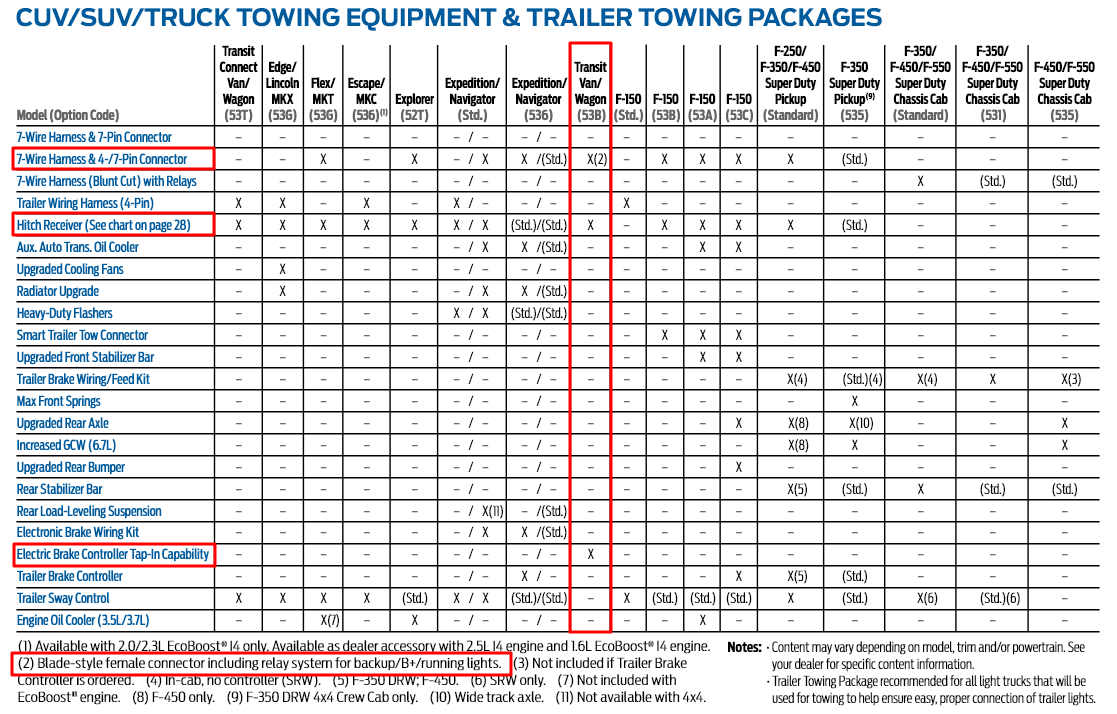 What Engine Do I Have?
You will also need to plug in your 2015 Transit's engine specs into the charts as well as part of the towing capacity equation. If you are having trouble finding out what engine you have installed, then follow these couple of really quick and simple steps to figure it out…
VIN Locations: First, you will need to grab your VIN, which is located in a few different places on the Transit vans but the three easiest locations to find it are: your registration card, on the safety compliance label (same label as the axle ratio code) or on the dashboard (driver's side) looking from the outside of the vehicle, in.
After you have your VIN, you will want to use an online VIN decoder (like this one) to squeeze out the information.
After you insert your VIN and search, you will have tons of information that will be super helpful and that is worth saving for future reference. For our example, I used a VIN I grabbed online and plugged it in to the decoder. The example Transit was equipped with the 3.7L engine and I now can plug that into the towing tables.
Van, Wagon and Chassis Cab:
If you look at the charts, you will notice three different types of Transit configurations listed. These are labeled as van, wagon and a chassis cab (or cut away cab) and are intended for different purposes…
Transit Van: The Transit Van has no windows in the rear portion of the vehicle, as illustrated by the image. These will typically have no seats in the rear, in fact, it will be empty, in most cases.
These are mainly suited for businesses that deliver goods like packages or other valuable assets so no windows is an added security measure that makes it harder to look into the vehicle, among other things.
Transit Van
Transit Wagon: The wagon is intended to carry passengers and will usually have the capacity to seat up to 15 passengers. There will be many rows of seats located in the rear of the van, with windows installed all the way around the vehicle.
These are typically used by shuttle companies or by people with large families.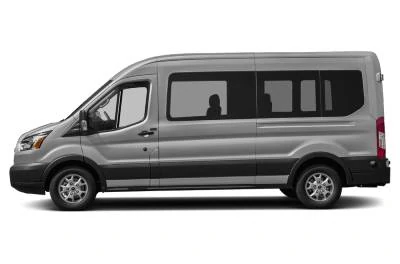 Transit Wagon
Transit Chassis Cab: The Transit chassis cab models will have the front portion of the van and the exposed frame in the rear portion.
These are primarily used for companies that want to add a customized area to the rear of the vehicle that is intended for a specialty purpose.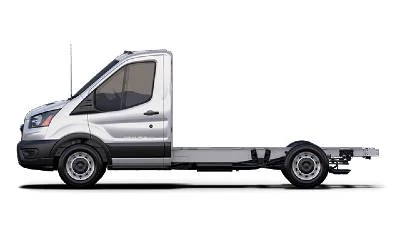 Transit Chassis Cab
Roof Heights Explained:
There were four different roof heights listed in the 2015 Transit tow charts and these were labeled as: a low roof, a medium roof, a high roof and an extended high roof. The images below show the differences between the low, medium and high roof options with the measurements, that are taken from the outside of the vehicle.
The roof heights did seem to affect the capacity numbers slightly, just by 100-200 pounds in most cases, from what I noticed but not a significant difference.
2015 Ford Transit Roof Height Options (norcalvans.com)
2015 Ford Transit Roof Height Options (norcalvans.com)
Additional Safety Notes I Found:
I tried to include all of the most important towing information for the Ford Transits but there is so much to read through, that I really recommend that you take a look for yourself to get a much better idea of what Ford recommends.
Here is some of the other useful info I found in the owner's manual and the 2015 towing guide (links at bottom of post) that stood out and is worth mentioning…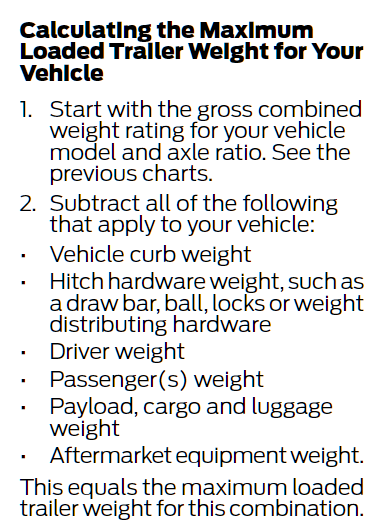 Ford Transit Trailer Weight Calculation
Ford Transit High Altitude Weight Compensation Notice
Ford Transit Maximum Loaded Trailer Weight Definition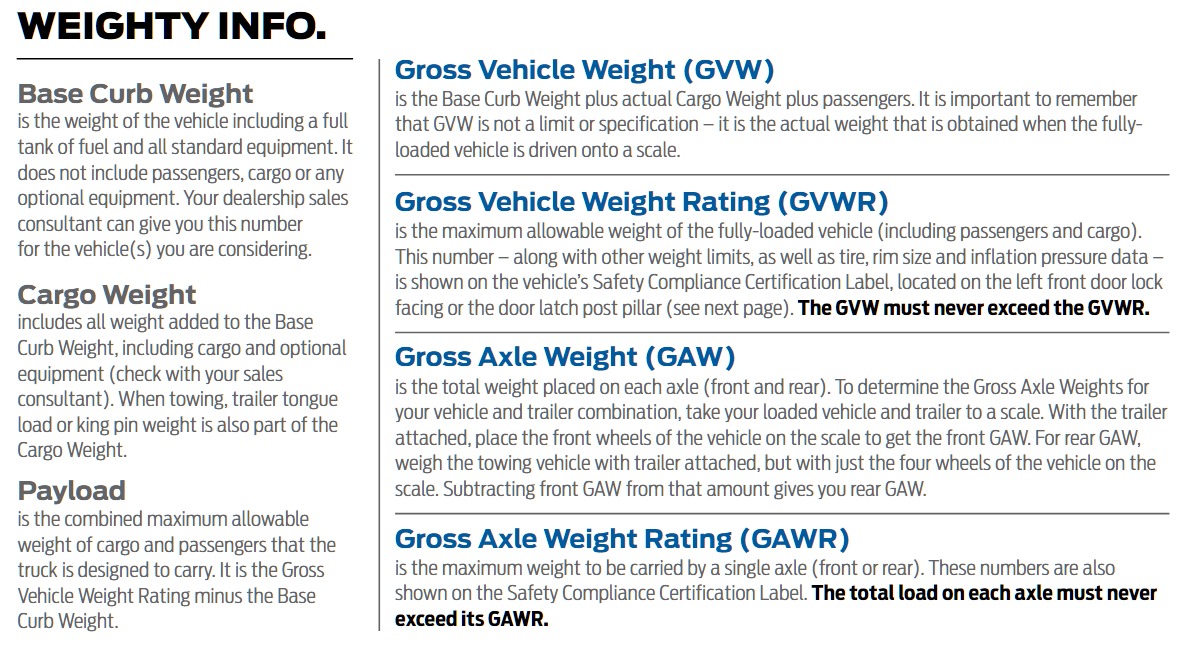 Ford Transit Maximum Loaded Trailer Weight Definition
Ford Transit Maximum Loaded Trailer Weight Definition
Helpful Links:
All of the research for the 2015 Ford Transit's I gathered came from either the owner's manual, the 2015 towing guide or from the 2015 Transit Brochure, which I have linked to below for those of you out there that want to do their own research or to dig deeper into the other vast amounts of info within these resources.
Note: The Transit brochure I found was from a third party source but is the original 2015 Transit brochure with other helpful info that is worth checking out too.